11 Simple Ways to Get Customer Reviews
Mar 14, 2023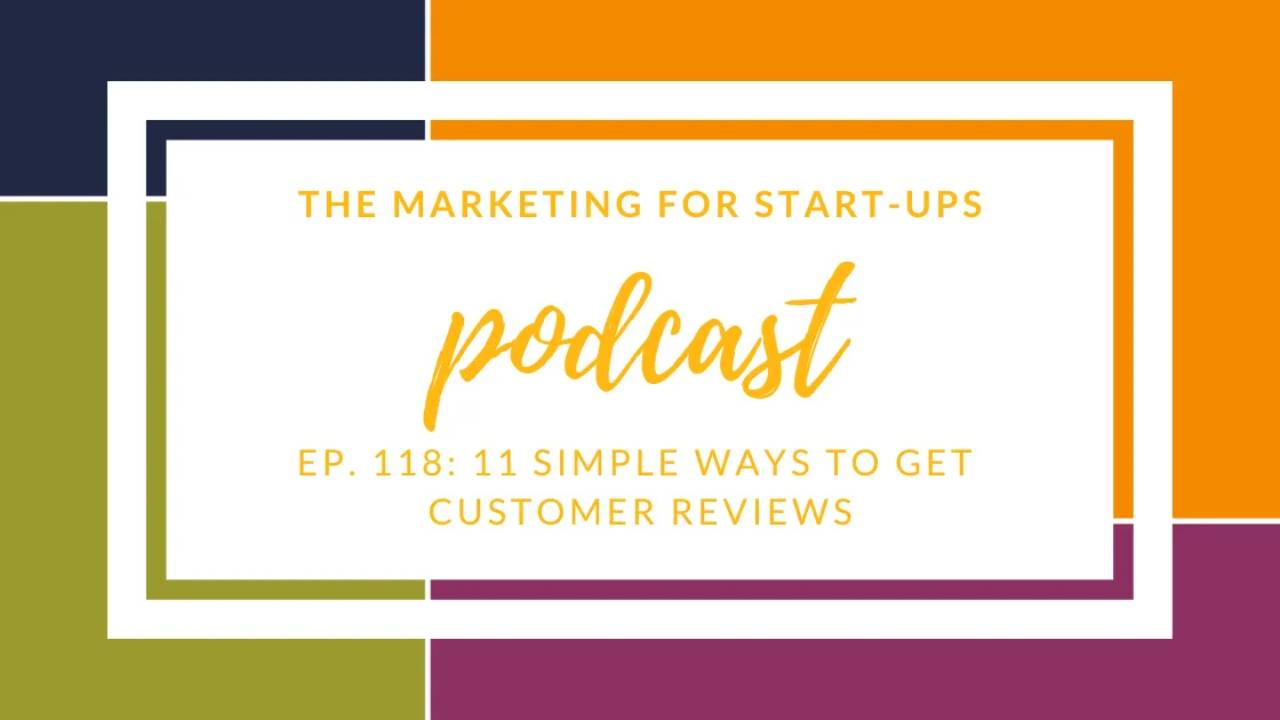 Do you find it difficult to get customers to leave positive reviews for your business? For better or for worse, getting reviews on your product or service is the best way to keep your marketing flywheel turning. This is because people really trust the ideas and opinions of other people.


In fact, an SEM Rush article claimed, "Word-of-mouth is even more effective than paid ads, resulting in five times more sales. 28% of people say that word-of-mouth increases brand affinity (a customer's common values with a brand). 64% of marketers agree that word-of-mouth is the most effective form of marketing."


But here is the problem: people are busy. That is why having a strategy and clear system for gathering reviews is key to actually securing them. It may be overwhelming-- like another thing on your plate. But the truth is, dedicating some time to connecting with your happiest customers and sharing those reviews will have an incredible impact on your business and revenue. If you don't know where to start, I've connected 11 very cool ideas on how you can get going today.
11 simple ways to Get Customer Reviews for Your Business


1. Delight your Customers: This is the most important tip to get right. Make sure the actual experience your customer has when interacting with or using your product or service is incredible. That is the easiest way to get good reviews. Focus on exceptional customer service and really listen to the feedback that your customers are giving you and make improvements based on their suggestions.


2. Gather Emails: This is an obvious one, but it's important. You need to make sure you are collecting email addresses no matter what your sell. Now, this may be obvious for online businesses, but for offline businesses, this could be a bit tricky. You want to make sure that you're never making a sale without collecting an email address. This is going to be a huge first step in making sure that you get those reviews because you're going to want to be continuing the relationship with those customers long after they've made the purchase with you, and the way that you can do that is through email, so make sure that you're collecting those. Really sending some nice automatic emails after the purchase is made to build that relationship and get them ready for you to ask them for the review.


3. Set up multiple profiles on review sites: Consider all the review sites that are relevant to your business and make sure you have an active profile. Here are some examples:
Yelp

Angie's List

Google Local

Yahoo

Local LinkedIn

Trip Advisor

City Search
Even if you don't think you are in a review-driven industry you'd be surprised how much people love sharing their experiences.


4. Make sure you ask your customers: The best way for you to increase the number of reviews that you get is simply asking in a genuine way. Your customers understand how important reviews are for your business. And as long as you provide an excellent product or service, they're going to be pleased to share their feedback. But there is a caveat here. You need to make sure you're not waiting too long to ask for feedback, people are more likely to provide feedback quickly after they've made the purchase - because the whole experience is fresh in their minds.


5. Make it Easy: The majority of people who are extra motivated to leave reviews are ones who have had a negative experience. As for everyone else, they're most likely not too excited to put in a huge amount of effort to find ways to leave you a review. People are busy. There are so many ways that you can make this easier. The simplest way is to put links directly in an email, asking for the review. The least amount of steps they need to take the better. You could also download links or create small banners for your website. Yelp, for example, offers downloadable "find us on Yelp" banners, that you can use on your website or event add to your email signature.


6. Incentivize Reviews: While it's not ethical to pay people for their reviews, you can add an extra benefit, like a discount code or piece of valuable content, for someone who has taken the time to write a review. A small incentive is a really great way to showcase your appreciation. When communicating the benefit, do stress that all feedback is welcome and you give incentives regardless of the content of the review.


7. Thank your reviewers: If the review site permits comments, it's really significant for you to reply to each and every review. By doing this, it actually encourages more reviewers because the reviewers can see that their comments are being seen by the brand and, in turn, making an impact. In addition, you could even surprise a top reviewer by sending them a little freebie or a gift or discount code. It's something that's so simple. But really promotes loyalty to your I'm best reviewers.


8. Create Systems for Reviews: Make asking for reviews a part of your work process. Often, businesses don't get reviews because they aren't asking for them consistently. A way around this is to make the review process a seamless part of your sale process.


9. Make Honest Feedback a Brand Value: In your regular marketing communication, mentioned how much you appreciate their honest feedback. If you're really good about communicating it via email and social media on a consistent basis, your audience will be encouraged to share their thoughts with you. It will also prove just how much you really listen to people's comments and appreciate the feedback, which will make your reviewers feel more of a connection to your brand.


10. Turn reviews and feedback into Marketing Content: Feature reviews on your social media feeds and on your website. Not just the good stuff as well. You can share mistakes you've made. This will help bring humanity to your brand and build trust with our customers/ Reviewers really appreciate being seen and heard. Showcasing your appreciation and consideration of their ideas and comments will go a long way.


11. Get reviews in Real Time: Turn reviews into a live conversation. Leveraging social media to share reviews is great. But you could actually go a step further and ask specific questions on social media and have people leave their reviews and ideas as a comment or DM. This shows authenticity because the feedback is public to everyone-- and therefore extremely genuine. For example, you can have folks vote on their favorite products or Ask them questions about customer service. Just don't forget to reply to each one. It's a really fun interactive way to have people feel a part of your business.


Have you implemented any of these strategies into your business? I'd love to hear from you. Leave a message in the comments sharing the most effective strategy you've tried in your business.


Take a listen!👇🏻
Get more like this.
New ideas, motivation and inspiration delivered to your inbox.
We hate SPAM. We will never sell your information, for any reason.